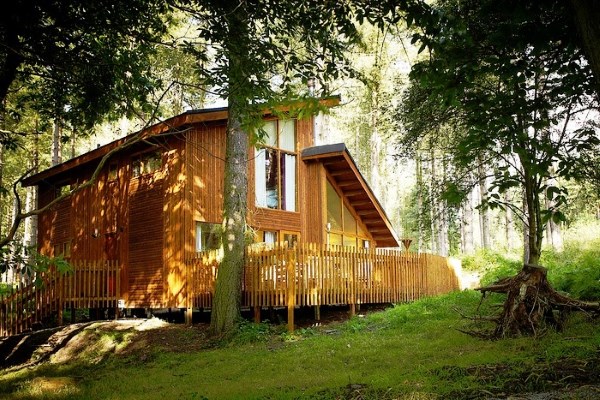 Forest Holidays, which offers luxury cabin breaks in idyllic Forestry Commission settings, has opened its eighth site this month.
Blackwood Forest, offers the perfect getaway, with maximum fun and relaxation, and minimum fuss – and you can even have your groceries delivered and unpacked for you before you arrive at your cabin.
For those outside the capital, but planning a visit – why not make Blackwood Forest your base? It's more comfortable and a lot less stressful than navigating central London, especially with a family.

Situated by Micheldever, Hampshire, in a beautiful wood of beech trees, Blackwood Forest is just one hour's train ride
from central London or just off the M3, if you're traveling by car. Forest Holidays will also be offering a free shuttle bus to take you to and from nearby Micheldever station.
As with Forest Holidays' other seven sites, including Sherwood, and the Forest of Dean, visitors to Blackwood Forest will stay in stunning contemporary, glass-fronted cabins on Forestry Commission land. The cabins come in a range of sizes, sleeping between 2 and 10 people – some with wood-burning stoves, most with private hot tubs, and all with a fantastic view of the forest around you.
Once you are ensconced in your cabin, you may not wish to leave, but should you have a day trip in mind, you'll have plenty of options. Winchester, with its lovely restaurants, shops, and craft markets, is close by, and fans of period drama will not want to miss a visit to Jane Austen's house in Chawton, or a trip to Highclere Castle – better known as Downton Abbey.
And for those coming with children, you probably won't get away without an outing to the nearby Peppa Pig World…
For grown-ups only, Blackwood Forest will also be home to Forest Holidays' newest cabin – the Hideaway. The
Hideaway is a very special one-bedroomed cabin, designed with couples in mind.
Offering more luxurious and romantic accommodation than a standard one-bedroomed cabin, the Hideaway comes equipped with a sunken bath with a view of the forest; a hammock on the deck, and an incredible floor-to-ceiling forest view throughout the cabin's open spaces.
Guests will be able to book a range of spa treatments, including massage, to have in the comfort of their own cabin, and as an extra-special treat, the 'chef in your cabin' experience sees an amazing three-course meal made for you, with some cooking tips given along the way so that you can recreate the experience at home.
Of course, more traditional activities will also be on offer, including on-site bicycle hire, so you can explore the area at your own pace.
Guided walks with Forest Rangers who know the forest and its inhabitants inside and out are also available. And for the more adventurous, Forest Holidays can arrange high-octane experiences such as high-wire, archery, and horse riding too. If you had something more relaxing in mind, you'll enjoy the range of board games in your cabin, or why not just pour yourself a glass of wine and take in the beauty of the forest from the comfort of your own private hot tub?
One of the highlights of a holiday in the UK is taking advantage of our changing seasons. As such, Forest
Holidays offer relaxing year-round mid-week and weekend breaks, as well as week-long holidays so you can appreciate our spectacular woodlands as they change throughout the year.
So whether you're looking for the freshness of a newly budding spring, a warm British summer, stunning autumnal colors, or cozy winter, there's a holiday that's right for you.
For details on any of the other Forest Holidays sites or to book now, call 0845 130 8224 or visit www.forestholidays.co.uk