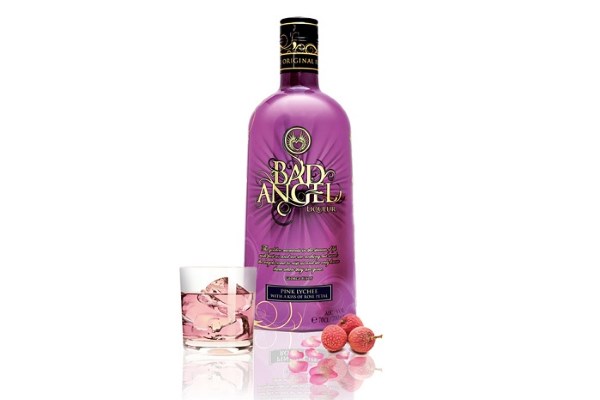 Whether you are looking for a smart aperitif, a warming liqueur or a bottle of fizz to pop on Christmas Day, we have a few suggestions to help you find the right bottle for that perfect festive moment cabinet this Christmas.
And to kick off the party Babco Europe are proud to introduce Bad Angel, a lychee liqueur that is strictly for the girls! (Although we are sure the boys would also love this too).
Release the Bad Angel inside you this Christmas with this light and exotic 24% ABV pink lychee liqueur, with a subtle kiss of rose petal – and the seductive suggestion of Petite Champagne Cognac.
Think liquid Turkish Delight in a glass and you will be in Bad Angel Heaven with this liqueur. Take it straight on the rocks, long with cranberry or try some of the great Bad Angel cocktail recipes available now in our Recipe section.
Another liqueur for the drinks cabinet this Christmas comes from Coole Swan, a Superior Irish Cream Liqueur created from a soft, mellow Single Malt Irish whiskey, fresh Irish cream and Belgian chocolate. This is not Baileys – this is a lighter, fresher liqueur that rolls smoothly over the tongue and leaves you wanting more.
Another choice on liqueurs would have to be the Rhumerie de Chamarel's Coffee Liqueur. This Chamarel liqueur is a perfect blend of premium rum made with pure sugar cane juice and roasted coffee grains. Available now in the UK from RDS Premium Spirits.
A great gin & tonic would not be complete without a measure of Warner Edwards or Sipsmith gin. With both producers bringing such a high level of quality to the table, a bottle of each would not go amiss.
Harrington-based craft distillers Warner Edwards take natural spring water, grain spirit, home-grown elderflower, plus ten other secret botanicals, and transforms them into a fantastically smooth and aromatic dry gin. Each batch is small, and every single bottle is carefully handcrafted, from the filling to the wax seal and label finishing.
City-based Sipsmith offer a great selection of spirits and their classic, traditional London Dry Gin is bold, complex and aromatic – smooth enough for a Martini but rich and balanced – perfect for a G&T. They may be a small, independent company but they craft truly artisanal spirits of uncompromising quality. Don't forget to stock up on the tonic with a case or two of Fever Tree for the perfect mix.
If you are looking for something a little SLOE then pop along to SLOEmotion, who have just about everything covered. A family-run business based in North Yorkshire, SLOEmotion has revived an almost forgotten country practice. They have been busily harvesting fruit from hedgerows and orchards, then using traditional kitchen recipes to create a range of mouth-watering products with a delicious homemade taste. SLOE Gin, SLOE Whisky, SLOE Vodka, SLOE Brandy, DAMSON Gin and CHERRY Brandy.
When it comes to vodka Russian Standard takes a lot of beating but for something a little different Black Moth Truffle Vodka is the world's finest, all-natural, truffle-infused vodka. Made with European Périgord truffles, it's five times distilled and three times filtered to deliver an exceptional finish.
The Vestal Vodka Company is a father and son enterprise – and while William Borrell can be found in London and ever ready to do a tasting or organize an event, his father, John, lives permanently in Poland. Vestal Vodka's goal is to introduce you to the true spirit of Poland. Vestal stands for supporting traditional methods, the passing of knowledge from one generation to the next and the triumph of taste over quantity. Who knew potatoes could taste this good!
Hoping to avoid a hangover? Get happy with AquaRiva Tequila. Synonymous with a lifestyle of adventure, fashion and pure celebration, AquaRiva Tequila, created by Cleo Rocos, is a delicate, handcrafted, fine premium tequila – which uses only the best hand-selected 8-year-old blue agaves and volcanic spring water from the highlands of Jalisco, Mexico.
If you are shopping for something bubbly then you are spoilt for choice – depending on your budget and palate. According to recent reports in The Guardian 'Sales of prosecco are bubbling over as the Italian sparkling wine replaces champagne as the drink for everyday celebrations and gatherings.' We have certainly seen this trend at recent events and in our cabinet, this year is a bottle of Balan Valdobbiadene Prosecco Superiore – but if anyone wants to send us a few bottles of Bollinger I am sure we would oblige and drink them.
When it comes to brandy a drop of Courvoisier or Baron de Sigognac will while away the hours while watching the family relax but our drinks cabinet this Christmas would not be complete without a bottle of The Dalmore 15YO. Twelve years maturing in American white oak ex-bourbon casks, then a three-year finish in three different sherry kinds of wood;
The perfect cabinet this Christmas night – a log fire, a full stomach and a wee dram (or three) of this wonderful whisky.