Whether you want to take in the views from the chairlift and then head down the groomed slopes or hitch a ride through fresh powder snow before sitting on a deck in the sun, you'll need to dress appropriately to brave the cold, wind, and the snow. With our tips on what to wear, you'll be skiing with a smile from ear to ear, even in the middle of a snowstorm!
The layer system dress
Choosing your ski dress is not just about opting for the latest trends, but it is essential that the technical clothing you wear is designed specifically for winter sports.
If you are new to the layering system dress, we recommend reading our article on the subject.
In case you don't have it in mind now, we remind you of the layering system dress for outdoor sports:
. A breathable inner layer to wick away sweat
. A mid-layer to keep you warm
. An outer layer to protect you from the elements
The layering system dress for alpine skiing
The layering system dress is a must for outdoor sports and works exceptionally well for alpine skiing.
A breathable inner layer is essential to expel the humidity you generate when descending and prevents you from feeling cold while on the chairlift. Long thermal underwear made from synthetic fibers is a good option, but merino wool is even better because of the breathability and warmth it provides even when wet.
The middle layer serves to keep your body warm. It can be a fleece or a light insulating jacket that you can wear over thermal underwear. Ski jackets are usually already insulated with either a fleece lining or a synthetic or down lining, so you'll need to tailor your mid-layer to suit the jacket you're wearing.
The outer layer is your ski jacket. As we have said before, your jacket can have a fleece lining or a synthetic lining, or down padding for warmer jackets. Your jacket must be windproof since the wind is assured when skiing, whether there is a forecast or the speed you go down the mountain. While on the chairlift, you will also be exposed to the wind from the movement. If you ski mainly in good weather, a durable water-repellent treatment will be enough for your jacket to protect you from inclement weather. If skiing in any weather or powder snow is your thing, then it's essential that protect yourself with a waterproof jacket.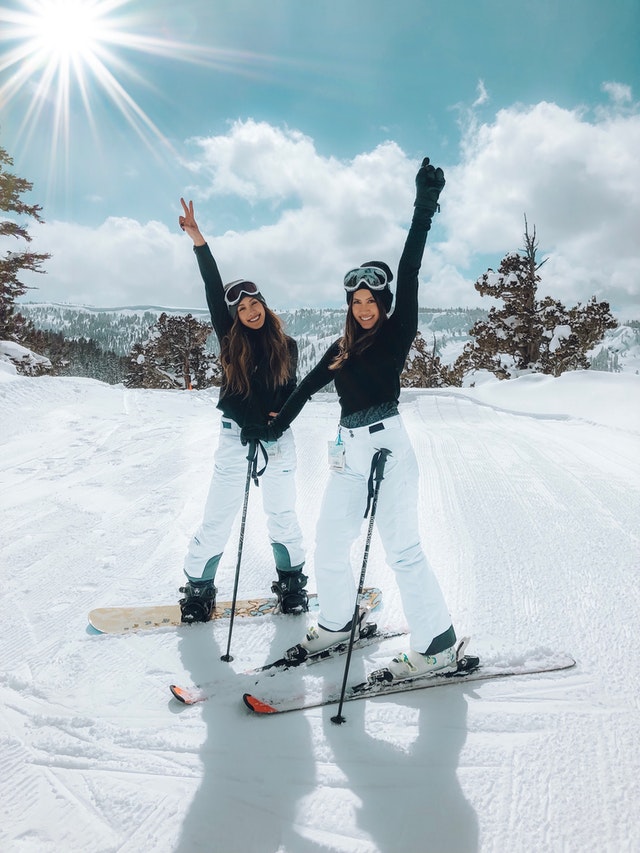 Finally, in addition to the cut and color of the ski dress, women's clothing tends to be warmer than men's, as they are generally more sensitive to cold.
. Inner layers
. Intermediate layers
. Outer layers
The layering system dress for the lower half of your body
The layering system dress is simplified on the lower half of your body, as there is less sweating to contend with. Like ski jackets, ski pants are usually warm and lined. So you can wear your ski pants or wear long underwear, depending on the weather conditions you face.
If you practice off-piste skiing, it will significantly expose your legs to the snow. Go for waterproof pants that are also reinforced with treatment.
. Men's ski pants
. Women's ski pants
What characteristics does ski dress have?
The layering system dress is a good start in choosing your ski clothing. While aspects of winter sports clothing overlap, there are others designed specifically for skiing.
What accessories should a ski jacket have?
A well-designed ski jacket should have accessories that protect you from snow and wind, such as:
. A snow skirt that prevents snow and wind from entering the jacket
. Velcro on the sleeves to adjust the jacket to the wrists
. Cuffs that protrude from the sleeves to prevent snow from entering your jacket
. An adjustable hood for skiing whatever the weather.
Pockets for specific items will make your life easier on the marked slopes, for example, a pocket to store your ski pass, an inside pocket for your mobile, or a security pocket for money or cards. Freeride skiers will appreciate having a pocket for the avalanche transceiver.
Sometimes they also have pockets to store glasses or sunglasses, and, in addition, they usually include a microfiber cloth to clean them.
If you practice free touring or sometimes walk with your skis strapped to your backpack, it will be good for you if the jacket has zippered ventilation openings so you do not overheat on the ascents.
Some jackets have a Recon reflector that helps patrols find you in an avalanche. It is just one more protection if you ski off the marked slopes, but it does not replace the avalanche transceiver.
. Men's ski jackets
. Women's ski jackets
What features do ski pants have?
Ski pants must be warm and waterproof. Integrated gaiters are a plus for going through powder. A zippered vent along the thigh is helpful if you're skiing in the spring or uphill when free touring.
. Men's ski pants
. Women's ski pants
Essential accessories for skiing
Wearing the right clothes doesn't just mean choosing the right jacket or pants. You also have to protect your extremities, as they are susceptible to cold.
If you're cold, your body concentrates blood flow to vital organs, like your heart or brain, to keep them at a constant temperature of 37°C. It is why your extremities, such as your feet or hands, are susceptible to the cold… In addition, it is essential to wear a dress a hat!
To protect your head with a beanie or, better yet, a ski helmet!
. Men's ski helmets
. Women's ski helmets
Ski goggles offer you better protection than sunglasses, whatever the weather. (You can read our article on how to choose the right glasses)
. Ski goggles for men
. Ski goggles for women
A neck warmer, even if thin, will give you additional protection against the cold and wind. And, in addition, it will cover the lower part of your face.
Sometimes choosing ski gloves is not an easy task. Thin gloves allow you to grip the poles well, but they are not warm enough in cold weather. Opt for thick waterproof gloves, which are not too tight if your hands get cold. For marked tracks, it is customary to wear gloves inside the jacket's sleeves. However, with ski cuffs, over jacket sleeves. Finally, mittens combined with thin inner gloves provide optimal protection against the cold.
. Men's ski gloves and mittens
. Women's ski gloves and mittens
Ski socks are also important. Thin socks favor precision with narrower boots designed for racing. It is better to choose thicker socks made of synthetic fiber or merino wool, combined with wider boots for greater comfort and warmth.
. Men's socks
. Socks for women
Wearing the right dress for skiing is the first and most important thing to protect yourself from the cold, the wind and the snow, because… yes, that's how we like the mountains in winter!