When celebrating the union of two hearts, weddings are a universal event. However, the nature, style, and execution of weddings can significantly differ depending on personal preferences, cultural traditions, and the latest trends. Recently, the idea of a destination wedding has become increasingly popular, creating a new style of wedding celebrations. But what sets a traditional wedding apart from a destination wedding? This article will delve into the key differences between the two.
Traditional Weddings
Traditional weddings, also referred to as home or local weddings, typically take place in the couple's hometown or current city of residence. They are generally conducted at a familiar venue, such as a local church, hotel, banquet hall, or family home. The ambience and style often reflect the couple's cultural, religious, or personal preferences.
One of the most significant aspects of traditional weddings is the potentially large guest list. These weddings can cater to a sizeable crowd, including family, friends, colleagues, and acquaintances. Another hallmark of traditional weddings is the adherence to customary rituals and ceremonies, which may be important to the couple and their families.
Traditional weddings also enable the couple and their families to take full control of the planning process, from selecting the venue to deciding on the menu, decorations, and entertainment. The availability of local vendors, familiarity with the area, and potential cost savings are also considerable advantages of a traditional wedding.
Destination Weddings
In contrast, a destination wedding is a more modern concept, often seen as a blend of wedding celebrations and a vacation. Destination weddings take place away from the couple's hometown, often in a picturesque or exotic location. It could be a serene beach, a lavish castle, a romantic vineyard, or even a city with a special meaning for the couple.
Guest lists for destination weddings are usually smaller and more intimate, typically limited to close family and friends due to logistical and financial considerations. That said, smaller guest lists can allow for a more personal and relaxed atmosphere, often turning into a multi-day celebration rather than a single-day event.
One of the unique features of destination weddings is the incorporation of local culture and traditions. For instance, if a couple chooses to marry in Italy, they might incorporate a traditional Italian wedding ritual or serve local Italian cuisine at their reception.
Planning a destination wedding can be challenging due to distance and unfamiliarity with the location. However, many resorts and venues offer all-inclusive packages and have wedding coordinators who can assist with the planning process.
Cost Comparison
It's a common misconception that destination weddings are more expensive than traditional weddings. The reality is the cost can vary significantly based on several factors. Destination weddings can potentially cost less due to smaller guest lists, but additional expenses like travel, accommodation, and planning logistics can add up. Similarly, traditional weddings can be less costly if kept simple, but costs can increase significantly with a large guest list and lavish arrangements.
 Destination Wedding Locations
If you're considering hosting a destination wedding, there are plenty of beautiful places worldwide. Below, we list some of the most popular locations for a destination wedding:
Bali, Indonesia:
Known as the Island of the Gods, Bali is a tropical paradise famous for its beautiful beaches, lush forests, and stunning temples. Its luxury resorts offer all-inclusive wedding packages to make your special day hassle-free.
Tuscany, Italy:
With its rolling hills, vineyards, and rustic villas, Tuscany is the perfect destination for a romantic and intimate wedding. The region's rich history, delicious cuisine, and beautiful landscapes make it a favorite among couples.
Santorini, Greece:
With its iconic blue-domed churches, sunsets, and Aegean Sea views, Santorini is a dream destination for many couples. You can exchange vows with a picture of the caldera or on a beach with black volcanic sand.
Paris, France:
Known as the City of Love, Paris is a classic choice for a destination wedding. From a small ceremony in a historic church to a lavish event in a château, Paris offers a variety of options for every couple.
Maui, Hawaii:
Offering beautiful beaches, tropical gardens, and stunning waterfalls, Maui is a popular choice for couples looking for a relaxed, beach-side wedding. Hawaii's rich culture and friendly locals add a unique charm to your wedding.
Jaipur, India:
Known as the Pink City, Jaipur offers a unique blend of rich history and culture. With its grand palaces and forts, Jaipur is perfect for couples looking for a royal, extravagant wedding.
Ibiza, Spain:
Ibiza isn't just about vibrant nightlife; it's also home to quiet villages, yoga retreats, and beautiful beaches, making it a versatile wedding destination. Whether looking for a laid-back beach wedding or a stylish villa ceremony, Ibiza has something for everyone.
Banff, Canada:
If you're a fan of outdoor adventures and breathtaking landscapes, Banff could be the perfect destination. Imagine saying your vows with the stunning Canadian Rockies as your backdrop.
Dubrovnik, Croatia:
Famous for its old town and beautiful Adriatic Sea views, Dubrovnik offers a unique and romantic setting for your wedding. Its historic churches and fortresses add an extra touch of magic to your special day.
Cancun, Mexico:
Known for its white-sand beaches and crystal-clear waters, Cancun is a popular choice for a beach wedding. Many resorts in Cancun offer all-inclusive wedding packages, making your planning process a breeze.
These are just a few options, and the world is full of beautiful and unique destinations for your wedding. Remember, the best location for your destination wedding is the one that suits your and your partner's preferences and personalities.
Destination Wedding Venues
Deciding on a venue is one of the most important steps in planning a destination wedding. The venue sets the atmosphere for the event and can make your wedding truly unforgettable. Here are some of the world's most stunning destination wedding venues:
Ayana Resort and Spa, Bali, Indonesia:
Known for its breathtaking views of the Indian Ocean, this resort provides a variety of outdoor and indoor venues. Their Rock Bar is particularly popular for its stunning cliffside location.
Castello Di Vincigliata, Tuscany, Italy:
This romantic castle in the Tuscan hills offers a fairytale setting for your wedding. The castle's gardens and terraces provide an idyllic backdrop for ceremonies and receptions.
Canaves Oia Suites, Santorini, Greece:
This venue is renowned for its luxurious suites and stunning views of the Aegean Sea. The platform also provides a panoramic view of Santorini's famous sunsets, making it perfect for evening ceremonies.
The Ritz, Paris, France:
For a wedding steeped in elegance and sophistication, consider The Ritz Paris. The opulent Grand Ballroom, lavish suites, and picturesque gardens make this venue a classic choice.
Four Seasons Resort, Maui, Hawaii:
This resort offers an array of tropical venues, from beachfront to garden settings. Their professional wedding planners can help customize your dream Hawaiian wedding.
The Oberoi Udaivilas, Udaipur, India:
This luxury hotel in Rajasthan offers an extravagant setting reminiscent of royal weddings. Its grand architecture and beautiful courtyards overlooking Lake Pichola are perfect for a regal wedding.
Atzaro, Ibiza, Spain:
An orange farm surrounds this rustic and chic agrotourism hotel in the heart of Ibiza. It's perfect for couples looking for a relaxed yet luxurious setting.
The Fairmont Banff Springs, Banff, Canada:
This castle-like hotel in the heart of the Rockies offers stunning views and a variety of venues, from grand ballrooms to intimate spaces.
Hotel Excelsior, Dubrovnik, Croatia:
Overlooking the Adriatic Sea and Old Town, this hotel offers a beautiful ceremony terrace and a grand ballroom for receptions.
Moon Palace, Cancun, Mexico:
This all-inclusive resort has several wedding packages and venues to choose from. Their beachside locations and lush gardens make it a popular choice for couples.
Each venue offers something unique, from luxurious ballrooms to breathtaking views. However, the best venue for your destination wedding is the one that aligns with your style, budget, and vision for your big day.
 Destination Wedding Planning Tips
Planning a destination wedding can be a thrilling yet challenging task. From booking the right venue to managing guests' travel plans, it requires meticulous attention to detail. Here are some practical tips to help you plan your destination wedding:
Research and Choose Your Destination Carefully:
The destination should be not only a place that appeals to you but also one that is accessible and affordable for your guests. Consider factors like climate, peak tourist season, and local customs while choosing a destination.
Hire a Local Wedding Planner or Coordinator:
They have in-depth knowledge about local vendors and can help navigate through the language and cultural barriers that might come up during the planning process.
Consider Your Guests:
Take into account your guests' budgets and travel capabilities. Offering them plenty of notice (save-the-dates should go out as soon as possible), information on accommodation options, and guidance for travel arrangements can be highly appreciated.
Visit the Venue Beforehand:
If possible, visit your chosen venue at least once before your wedding. It's important to meet with vendors, taste the food, and get a real sense of the location. If it's not possible, consider a virtual tour or meeting.
Understand Local Laws and Regulations:
Ensure you understand the legal requirements for getting married in your chosen destination. Some countries have residency requirements, while others may require specific documents.
Pack Wisely:
Consider the local weather, customs, and venue facilities when packing for a destination wedding. If you're getting married on a beach, a heavy ball gown might not be the best choice.
Plan Group Activities:
Your wedding may be the main event, but consider planning additional group activities for your guests. It could be a welcome dinner, a beach day, a group tour, etc.
Create a Wedding Website:
This is an effective way to keep your guests informed about the itinerary, travel arrangements, accommodation details, and more.
Get a Good Travel Insurance Policy:
This is a safety net for unexpected travel disruptions, vendor cancellations, or weather-related issues.
Remember to Relax and Enjoy:
Even the best-laid plans can face hiccups. Remember, at the end of the day, it's all about celebrating love in a place you love.
Planning a destination wedding requires time, patience, and a sense of adventure. But with the right planning and attitude, it can be an unforgettable experience filled with joyous memories.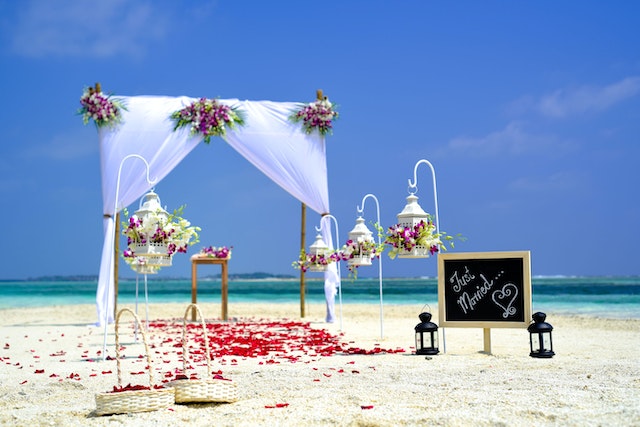 All most 20 Reasons Destination Wedding is the Best
Destination weddings have become increasingly popular for a variety of reasons. Here are 20 reasons why a destination wedding might be the best choice for you:
Unique Experience: A destination wedding allows you to celebrate your big day uniquely and unforgettably.
Stunning Backdrops: Whether it's a sandy beach, lush vineyard, or historic castle, your wedding photos will be truly spectacular.
All-In-One Venue: Many destination wedding venues offer a location for the ceremony, reception, and accommodation all in one place.
More Intimate Affair: With a smaller guest list, destination weddings are typically more intimate and personal.
Combining Wedding and Honeymoon: You're already in a beautiful location; why not stay and enjoy your honeymoon?
Guest Vacation: A destination wedding also doubles as a vacation for your guests.
Longer Celebrations: Instead of a single-day event, destination weddings often turn into a multi-day celebration.
Less Stressful Planning: Many resorts offer full-service wedding planning, simplifying the planning process.
Cost-Effective: Depending on the location and size, a destination wedding can sometimes be more cost-effective than a traditional wedding.
Incorporation of Local Culture: Embrace the local culture and traditions of your chosen destination in your wedding ceremony.
Fewer Expectations: Being in a different location can free you from some traditional wedding expectations.
Guest Bonding: Over a few days, your guests will have a chance to form deeper relationships.
Relaxed Atmosphere: Destination weddings often have a more open, vacation-like atmosphere.
Weather and Environment Control: Choose a destination based on your preferred climate and surroundings.
Unforgettable Memories: Your wedding won't be a memorable day, but a special trip for everyone involved.
Quality Time: You get to spend quality time with your closest family and friends.
Customizable Packages: Many destination venues offer wedding packages to suit your needs and budget.
Minimal Decor Needed: With natural beauty, there's often less need for additional decoration.
Exciting Adventure: It adds a sense of adventure to your wedding celebrations.
An Opportunity to Stand Out: Finally, a destination wedding is an excellent way for a couple to stand out and make their special day uniquely theirs.
Remember, the best kind of wedding is the one that suits you and your partner's individual preferences, values, and budgets. If these reasons resonate with you, then a destination wedding could indeed be the best choice for you!
All-Inclusive Destination Weddings
An all-inclusive destination wedding takes the concept of a destination wedding one step further by offering a comprehensive package that typically includes the ceremony, reception, accommodations, meals, and additional amenities. This kind of wedding package is often provided by resorts in popular wedding destinations such as the Caribbean, Mexico, and Hawaii.
Here's what you need to know about all-inclusive destination weddings:
What's Included?
All-inclusive packages typically cover the wedding ceremony and reception, including venue setup and teardown, basic decorations, a wedding cake, a bouquet for the bride, a boutonniere for the groom, and sometimes even a wedding coordinator. Also included are meals, drinks, accommodations, and resort amenities. Some packages may include added perks like a complimentary spa treatment for the couple, live music or DJ services, photography/videography services, and special romantic touches like a private dinner.
Guest Accommodations:
One of the significant advantages of an all-inclusive destination wedding is the convenience it provides guests. Not only do guests get to attend a beautiful wedding, but they also get a vacation out of it. Their accommodations, meals, drinks, and resort activities are included in their stay.
Cost:
While the upfront cost of an all-inclusive wedding might seem high, when you break it down, it can be more affordable than a traditional wedding. You pay a set price for everything, which helps with budgeting and eliminates the risk of unforeseen costs.
Ease of Planning:
Many all-inclusive resorts have an in-house wedding coordinator who will work with you to plan and execute your wedding. This can greatly reduce the stress of planning a wedding from afar.
Customization:
Even though you're choosing a package, many resorts offer customization options to make your wedding reflect your style and taste.
Considerations:
While all-inclusive destination weddings can be convenient, they also have some downsides. You'll have less control over vendors (like photographers, florists, and musicians), and it can be harder to plan detailed, personalized touches. Also, your guests will have to be able to afford the trip.
Some popular all-inclusive destination wedding resorts include Sandals Resorts (Caribbean), Palace Resorts (Mexico), and Hard Rock Hotels (various locations).
Remember, it's essential to read the fine print before booking an all-inclusive wedding package. Make sure you understand exactly what's included and what's not, and consider hiring a travel agent or wedding planner who specializes in destination weddings to help you navigate the process.
Conclusion
Ultimately, the choice between a traditional wedding and a destination wedding boils down to personal preference, budget, and the kind of experience the couple wishes to have. Whether you dream of a grand celebration surrounded by everyone you know or a private ceremony in an exotic locale, both traditional and destination weddings offer their unique charm and advantages.