Malaysia is rich with many different cultures and races, which means festive celebrations are commonplace. We, Malaysians, love festive celebrations so much. You get to meet up with family and friends at open houses, wear traditional attire, enjoy all the incredible food to level up your Raya fashion baju kebaya and get days off work too!
Chinese New Year just finished, and now Hari Raya is just around the corner. Ladies, it's time for us to prepare and start deciding to wear for Hari Raya. Whether you fancy a baju kebaya, cheongsam or saree, it's always fun to dress up for the occasion.
However, some people don't enjoy wearing traditional attire and prefer modern fashion. That's why many people are opting for a newer outfit that fits the festive spirit, the baju kebaya modern.
Modernising Tradition
Baju Kebaya is a traditional outfit that originated way back in the 16th and 17th centuries in Indonesia and Malaysia. Tradition is important, but should we really be doing things the same as we did more than 100s of years ago? Of course not; change is necessary.
Baju Kebaya is an upper-body garment traditionally worn with a skirt or sarong. However, wearing a skirt is not everyone's preference. You have the freedom to choose between how you pair it. You could mix and match your modern between an elegant skirt or some classy slacks.
Jewellery is often used to enhance and complete the outfit. Anything from earrings to necklaces would be perfect for adding some bling to your baju kebaya. If you want some bling already on the outfit, the modern has newer designs that feature border lace and are encrusted with genuine Swarovski beads!
Choosing the Right Material and Cut for Your Baju Kebaya Modern
Looking your absolute best starts with choosing the right size for you. Oversized and baggy-sized don't look very good. That's why modern follows a modern cut and mermaid skirt cutting to fit your body perfectly.
As Hari Raya falls on May, the hottest month in the Malaysian calendar, choosing a suitable material to avoid sweat stains is essential. Most modern is made from a piece of polyester fabric. Although polyester isn't the coolest material, it is very good at drawing sweat away from the body, which will prevent sweat stains.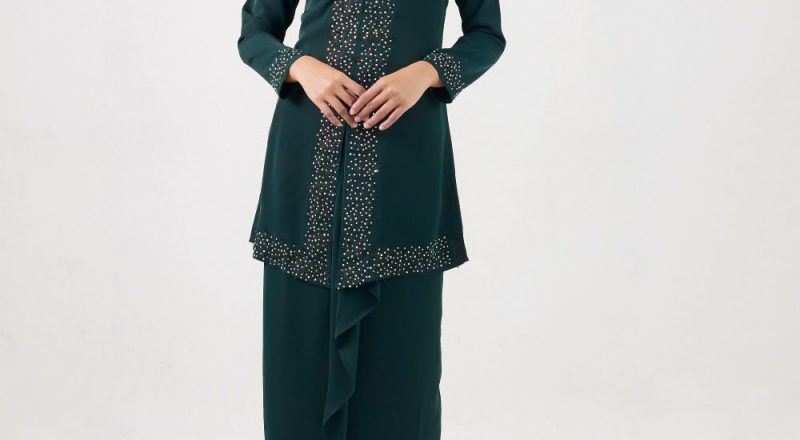 Taking Care of Your Baju Kebaya Modern
There will be plenty of opportunities to wear your modern because of our multicultural society. Some people don't like rewearing outfits, but why stop rocking such a fabulous outfit. Repeating your clothes is good for your wallet and the environment!