Thailand is known throughout the world for its exceptional cuisine, and this is no different with Phuket restaurants. Aside from the hotels and resorts dotting the various beaches and hills of the island, there are brilliant dining experiences waiting to be enjoyed. At Banyan Tree Phuket you can experience contemporary renditions of traditional cuisine from an array of vibrant and varied restaurants and bars.
The Watercourt
The Watercourt is a restaurant overlooking the lagoon where you can eat unforgettable Phuket seafood. This Phuket restaurant features a gorgeous location with calm waters and shining evening lights. The food is international cuisine and is the perfect place for a romantic dinner. During breakfast, you can take in the delicious aromas of homemade pastries, tropical fruits, and dimsum while enjoying breakfast outdoors. In the evening, The Watercourt transforms into a different experience, presenting its international side amidst an expansive fine buffet  which uses locally sourced, high-quality ingredients. This buffet presents an enthralling selection of Phuket seafood.
Banyan Cafe
Overlooking the Laguna Golf Course is the Banyan Cafe, with a wide selection of light Thai and Western food options along with a bright atmosphere. This location is an ideal place to relax while admiring the scenery of Laguna Golf Course, with a range of delicious Thai dishes as well as cafe classics such as pizzas, pastas, salads, and sandwiches.
Veya
Veya offers delicious and wholesome food inspired by Asian and Mediterranean traditions. The food at this restaurant is conscious and plant-forward cuisine, delighting the senses and elevating your well-being. For lunch, you can order from a myriad selection of different healthy salads, rice bowls, as well as desserts. At dinner, you can choose from salads, rice bowls, seafood, and special dishes. Each of these dishes are beautifully presented and taste as delicious as they look, weaving together Asian and Mediterranean culinary influences.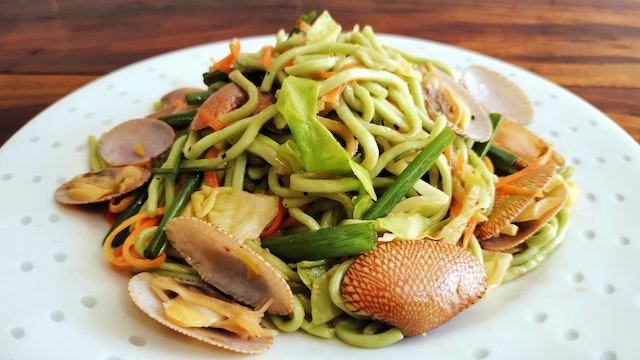 Saffron
Last but definitely not least among this selection of amazing restaurants is Saffron. Originating as a simple curry house, Saffron has grown into an award-winning dining experience that is now best known as the signature Thai restaurant of Banyan Tree Hotels & Resorts. Saffron features exotic Thai flavors in a contemporary yet classically elegant banyan Tree setting, the restaurant has a simple elegance where you can enjoy unique modern renditions of local classics. You can experience classic Thai dishes with a modern twist such as Nham Tok, Som Tom, Tom Kha Gai and much more.
There are a wide variety of restaurants and dining experiences you can enjoy at Banyan Tree Phuket including seafood buffets, modern Thai food, and healthy plant-forward cuisine. Any of these Phuket restaurants are sure to impress so visit Banyan Tree Phuket if you want to experience the food they have to offer.