Samui is one of the most beautiful islands in Thailand, making it an extremely popular tourist destination for visitors to the Land of Smiles. One wonderful way to experience the island is to wake up and enjoy some time in one of Samui's quaint beachside cafes. You may be wondering where these magical spots are located, so this article will give you the inside scoop on the top beach cafes in Samui.
Hom
Named after the delicious smell of the baked goods you can find here, Hom is an amazing beachside cafe in Samui. It is the perfect place to enjoy a wide variety of high-quality baked goods, including ice cream sandwiches, muffins, and croissants. This cafe is located inside the KimptonKitalay resort, and it is a great place to book for large group gatherings as well, as birthday parties or small anniversary celebrations.
Hemingway's
Another incredible Samui cafe is Hemingway's on the beach. The owner of this quaint establishment, Chef Jaa, specializes in traditional Thai dishes and her menu offers a variety of homestyle dishes that are definitely worth stopping by to sample. Located on the Thongkrut fisherman's village beach, this cafe also has a quiet, secluded feeling. It is the perfect spot to relax and have a quiet morning under the palm trees.
Island View Restaurant
This is a great beach cafe spot that offers food all day long and a great Samui evening dinner location. With both sunny seats right on the beach and a shady area inside this bamboo restaurant structure or under nearby palm trees, the Island View has a great area for all beach-goers. They feature many great seafood dishes with ingredients fresh from the ocean. Be sure to check out their late-afternoon happy hour for discounts on their drink menu.
Som
As one of Samui's top beachside locations, Som is a must-visit cafe for any holiday-goer. This quaint seaside restaurant is located on the northern side of Samui, offering a beautiful view of Koh Phangan. This simple restaurant has a casual atmosphere that is welcoming and relaxed. The staff makes all visitors feel at home and serves up some great traditional and international dishes. They also feature a catch of the day for that craving for fresh seafood. This cafe is a great option for those who want a chill morning on a Samui beach.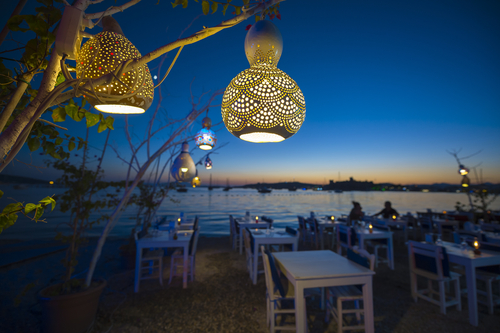 Enjoy Beach Cafes in Samui
There are so many wonderful cafe options along Samui's beaches. The only way to find your favourite spots is to try them out for yourself. Make sure you check out all of these highly recommended options on your next trip to Samui and enjoy the beauty of Thailand's beaches, along with delicious food and drinks.