With the exception of backpackers who flock to Bangkok's infamous Khao San road, most tourists in the City of Angels tend to stay along Sukhumvit road and its offshoots. But why not consider other areas that show you a different side of the city? From its high-rise office buildings and proximity to Lumpini park (a.k.a the green lungs of Bangkok) to charming, colonial-style dining and drinking venues like The House on Sathorn, there is much to see and do in this part of town. So much so that you'll very much enjoy your stay at a hotel in Sathorn, Bangkok!
Sathorn is brimming with unique, interesting attractions
Fancy a visit to the Sathorn Unique Ghost Tower to learn more about the abandoned building's history in the context of the 1997 'Tom Yum Goong' economic crisis? Or perhaps you'd like to admire the fascinating architecture of the Robot Building located on South Sathorn road? Likewise, the Bangkok CityCity Gallery is also ready to give you a taste of local art in a variety of mediums and forms such as painting, sculptures, videos, and live performances. The list is clearly endless!
Needless to say, staying in a hotel in Sathorn, Bangkok ensures that you don't miss out on these off-the-beaten-track attractions and activities. It gives you a better feel of this massive metropolis, including its rich history and culture, offering an experience that rivals none other! Rather than being in a tourist bubble, you'll also get a glimpse into the daily lives of office workers as they commute to work and trickle in and out of office buildings. Take a break from your busy day and people-watch from one of the many restaurants, cafes, or bars in Sathorn!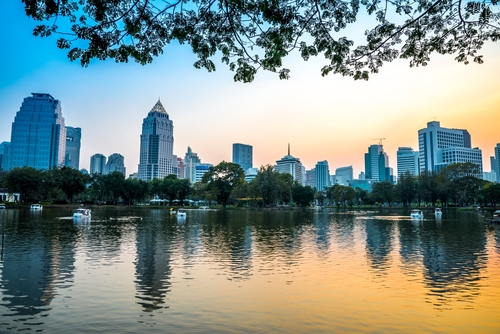 Sathorn connects you to known tourist hotspots
Granted, Sathorn isn't home to many of the tourist attractions that fill the pages of guidebooks. But fret not, staying in the area is convenient enough and you won't feel like you're missing out.  As you can find many hotels in Sathorn, Bangkok that are near both BTS and MRT lines, simply hop on the train to escape the city's traffic and congestion and get to pretty much anywhere in the city in no time. From Sathorn Pier, itself connected to Saphan Taksin BTS station, you can also get on a water taxi to explore attractions dotted along the Chao Phraya river.
In fact, the Amanta hotel in Sathorn, Bangkok is less than a 10-minute walk away (or less than a 5-minute motorbike ride away) from Lumpini station on the Blue MRT line. In no time, you can pop up in the heart of Sukhumvit for some good old mall hopping and upscale shopping or at the Old Town (Wat Mangkorn, Sam Yot, and Sanam Chai stations) to explore the grandeur of Wat Po, Wat Arun, Wat Phra Kaew, and more. And, of course, if the hustle and bustle ever get too much, Lumpini park is also a stone's throw away for some much-needed fresh air.
Who knew staying in a hotel in Sathorn, Bangkok could be so convenient and enjoyable?