Lazy Cabbage Rolls are a delicious food; the hosts are aware of the existence of masterpieces called lazy cabbage rolls. But not everyone knows how to cook this delicacy. I will tell you how to cook lazy cabbage rolls with minced meat, cabbage and rice at home.
Even under the name, it is easy to guess that stuffed cabbage rolls are ready without difficulty. But first, let's take a closer look.
Common cabbage rolls are cooked with rice. This ingredient is also available in the "lazy" version of sophistication. If there is no rice on hand, replace it with pearl barley, buckwheat or millet. To enhance the taste, use coriander, celery, parsley and dill in various combinations.
If you know only one classic recipe, you can get something new and tasty every time with fillings, additives and spices. It is recommended to serve lazy cabbage rolls hot on the table with vegetable salads, sour cream, sauce or boiled potatoes. Vodka or wine goes well with the dish.
How to Cook Classic Lazy Stuffed Cabbage Rolls
The classic dish, which I will share with the cooking technique, will appeal to gourmets who like the combination of meat and vegetables, as the recipe does not provide for the use of rice. Lazy stuffed cabbage rolls are a juicy and mouth-watering treat that I advise you to decorate with a vegetable salad or mashed potatoes. Tomato juice is strong, full and enhances the taste of the meat. A wonderful dish for the New Year's menu.
Chop 500 g

Onion 1 pc

Cabbage leaves 300 g

Eggs 1 pc

Carrots 1 pc

Sour cream 2 tbsp. l.

Water 200 ml

Tomato paste 3 tbsp. l.

Vegetable oil 10 ml

Salt and pepper to taste

Calories: 155kcal

Protein: 8.3 g

Fat: 10 g

Carbohydrate: 7.5 g
Remove the leaves from the cabbage, boil in salted water and chop carefully with a knife. Send the finely chopped onion to the pan with the butter. Mix the grated carrots with the onion and fry. The main thing is that the vegetables do not burn; otherwise, the taste does not change for the better.
Fry the minced meat in another pan, and season with pepper and salt. The meat mass must be homogeneous, without lumps.
Mix the fried vegetables with the chopped cabbage and mince, add the egg and make chops from the mixture. Put the cabbage rolls in a baking tin.
Mix water with tomato paste and sour cream with salt and pepper to make the sauce.
Pour the cabbage rolls with the prepared sauce and send them to the oven. At 180 degrees, they cook for half an hour.
I serve ready-made delicacies both independently and in connection with side dishes. In any case, it turns out delicious. Garnish each serving with chopped herbs before serving.
How to Make Lazy Cabbage Rolls with Rice
Want to enjoy the taste of hot and juicy cabbage rolls, but there is no time to cook? Don't worry; there's a way out! We are talking about lazy cabbage rolls with rice. Easy to prepare, quick, aromatic and tasty delicacies will take place in the centre of any table. Cabbage rolls are called lazy only because cooking takes little time.
The dish consists of food that is always available in the refrigerator. A fun magic process in the kitchen during cooking charges you in a great mood and energy. Even school children can create entertainment, for example, as a gift for mom on March 8th.
Ingredients:
Rice – 150 g.

Cabbage – 0.5 head.

Mince – 150 g.

Onions – 1 pc.

Carrots – 1 pc.

Sweet pepper – 1 pc.

Tomatoes – 2 pcs.

Garlic – 2 cloves.

Salt, herbs, spices.
Preparation:
Chop the cabbage, put it in a saucepan and cook. It takes 20 minutes. Cook the rice at the same time. While the ingredients are cooking, peel, wash and chop the vegetables.
Heat oil in a pan and place chopped onion, fry a little, add grated carrots, pour in a little water and simmer. After a few minutes, send the chopped peppers to the pan.
Later, send the minced meat to the pan and the crushed garlic. If the mince is frozen, first thaw it in cold water.
Crush the minced meat with a fork; pour in water and salt. Next, toss the tomatoes in the pan with your favourite spices. I use basil, rosemary and peppers.
Add cabbage to the main mass together with rice. Cover and wait for the rice to soak in the tasty aroma. Finally, add some chopped herbs to the dish, thanks to the refined aroma.
My home is crazy about lazy rolls with rice, which have long been an essential part of the family menu.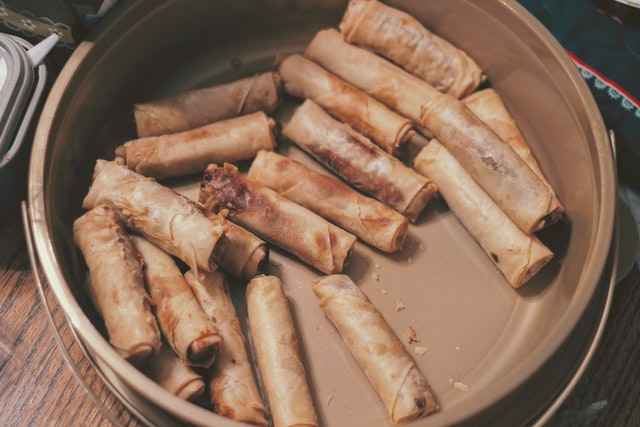 Delicious Lazy Cabbage Rolls
The dish's highlight is that the chops are made from a mixture of minced meat and vegetables, which are fried and boiled in sour cream with tomato juice. Thanks to the sauce, you get soft, lazy cabbage rolls combined with any side dish, whether it is potatoes, pasta or buckwheat.
Ingredients:
Cabbage – 200 g.

Onions – 1 pc.

Minced pork – 700 g.

Eggs – 2 pcs.

Tomato juice – 20 ml.

Sour cream – 4 tbsp. Spoons.

Krasnodar rice – 100 g.

Carrots – 1 pc.

Flour – 4 tbsp. Spoons.

Salt, Provencal herbs, vegetable oil, pepper.
Preparation:
Let the cabbage go through the grater. Fry the diced onion in oil, add the grated carrots and fry until golden brown. In a deep bowl, combine fried vegetables with minced meat and grated cabbage.

Add boiled rice to the main mass, mix, add eggs, and salt with spices and make a homogeneous mass. From the composition, make oval cabbage rolls, roll in flour and fry until golden brown.

Put the cabbage rolls in a deep pot, add a little water and simmer for a third of an hour. Let the cabbage rolls simmer without covering the dishes with a lid.

Make a sauce by mixing sour cream with tomato juice and adding a little pepper and salt.

It remains to pour stuffed cabbage rolls with sauce, cover and simmer for half an hour. Serve hot.

Lazy cabbage rolls are a choice of many dishes, including julienne with mushrooms and pork liver.
Interesting Facts about Stuffed Cabbage
Once upon a time, an ancient Greek chef wrapped finely chopped meat in cabbage leaves. Later, to save time, he mixed the ingredients. The result is lazy cabbage rolls.
I will notice the high-calorie content of the dish. I advise people who care about their image to abuse the delicacy. "Lazy animals," as people call lazy cabbage rolls, are prepared differently. All minced meat is suitable for cooking. To make the delicacy delicate and spicy, homemakers use savoy cabbage, spinach or beetroot leaves. You can replace fresh cabbage with salted or sauerkraut.
There are many options for hacking – poultry, fish, meat, and seafood. The list also includes a selection of vegetarian toppings to diversify your daily menu. With the help of dried fruits or your favourite herbs, the dish is given refreshing, and the fruit portion even surprises the gourmet.
In the past, lazy cabbage rolls were considered a festive hot dish. Nowadays, they are often found on the daily menu. Frozen cabbage rolls are sold in any supermarket, but sometimes you want to eat something delicious, natural and homemade.
I hope the article where I went over the recipes for making lazy cabbage rolls made you happy with interesting and informative information—Cook, experiment and always praise and respect the guests who enjoy the cuisine. Good luck!