Getting out of Bangkok and heading south for a week-long stay on the beaches of Pattaya is something that many Bangkok families look forward to every year. But if your kids get bored of the beach and are looking for something new and exciting to do, plan a visit to the Pattaya Elephant Village as a special treat.
It can be tough trying to keep your kids interested and engaged when you're on holiday, particularly as they get older. The beaches and water sports of Pattaya seem to lose their lustre as kids get older, and the Big Buddha on the hill, Underwater World, Nong Nooch Garden, and all the other kid-friendly attractions of the town are places your kids have seen and visited before.
You can go crazy trying to think of something new for your kids to do that would be exciting and interesting but would also be educational and provide fond memories and great photos.
New and Exciting Experience for the Kids
Visiting the Pattaya Elephant Village would certainly fulfil all your requirements for the perfect kid's activity. You can choose between a morning (6:30 AM to 11:30 AM) or afternoon visit (12:30 PM to 17:30), and Elephant Jungle Sanctuary will see to all the details.
You and the family will enjoy two traditional Thai buffet meals, and the staff of EJS will pick you up and drop you off at your accommodations in Pattaya. They'll also have drinking water available in the village, and they'll even supply food for you to feed to the elephants.
The only things you'll be asked to bring are a hat and sunscreen to ward off the hot Pattaya sunshine. You'll also need to bring a swimsuit and a change of clothes. This is so the whole family can interact with all the elephants by helping to bathe them.
You'll certainly want to get photos of the kids playing in the water with the elephants, but if you're worried about bringing an expensive phone or camera to the elephant village, don't worry, you can leave it at home. The village has their own camera service that is no extra charge. The photographer will be taking pictures of your entire group throughout your visit.
At the end of the end day, they will upload the photos to a Dropbox site that you can access through a link on Elephant Jungle Sanctuary's Facebook page. You can download all the pictures you want to remind you of your family day with the elephants.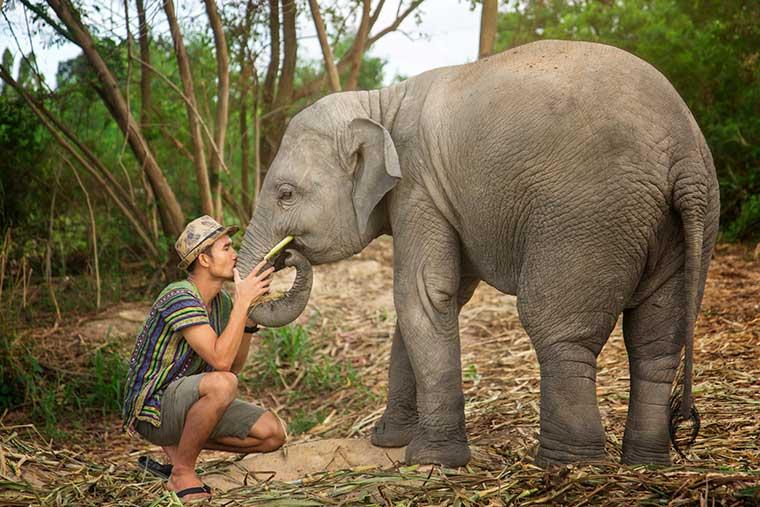 Educational Experience
A trip to the Pattaya Elephant Village is a fun and thrilling day out, but it's also an educational experience for your kids to learn about the lives of Thailand's elephants. It teaches them empathy and compassion. It also raises their awareness of the natural world and our need to conserve it for future generations of both animals and people. On your next holiday to Pattaya, give your kids a treat and book a visit to the Pattaya Elephant Village.