Business formal attire is typically defined as a professional look that includes a suit, dress shirt, dress shoes, and other professional accessories such as a belt, tie, and pocket square. Formal attire is worn to job interviews, client meetings, and other critical business-related events. It is important to remember that formal business attire should be neat and clean and present a professional and polished look. Women should opt for a tailored suit, dress shirt, and dress shoes, while men should choose a suit, dress shirt, and dress shoes. Both men and women should ensure that their clothing is well-fitted and professional. Accessories such as a belt, tie, pocket square, and jewellery should be kept to a minimum.
Definition of Business Formal
Business formal is a style of dress that is more formal than traditional business attire. It typically involves wearing a suit, dress shirt, and tie for men or a dress, skirt, and blouse for women. It is usually appropriate for virtual meetings, presentations, interviews, and other occasions.
Business formal is distinct from black-tie or white-tie formal attire, the most traditional style reserved for extraordinary occasions.
What to Wear
Men should wear a tailored dark suit and a tie when dressing for a formal business event. Women should opt for a tailored skirt suit or a dress with a jacket. Both genders should choose dress shoes and minimal, professional-looking accessories.
Men
Men should wear a business formal outfit for a formal occasion. It typically includes a suit or blazer, dress shirt, trousers, shoes, and a tie. Accessories such as pocket squares, cufflinks, and belts can also be worn to give the outfit a more polished look.
Women
Women's business formal attire typically consists of a tailored dress or skirt with a matching tailored jacket or a tailored blouse with tailored trousers or a skirt. Accessories such as dressy heels, clutch purses, and jewellery should be minimal and tasteful.
Common Mistakes to Avoid
1. Not dressing appropriately: Business formal attire tends to be more conservative than other types of clothing, so make sure you are dressed appropriately. Avoid wearing jeans, shorts, t-shirts, and flip-flops.
2. Wearing too much: Keep your jewellery to a minimum when dressing business formally. Avoid wearing large, flashy pieces or too many accessories.
3. Forgetting to iron: Ensure you iron your clothes before wearing them. Wrinkles and creases in your clothing will make you look unprofessional.
4. Overdoing the makeup: Avoid overdoing the makeup when you want to look presentable. Natural-looking makeup is best for business formal attire.
5. Not paying attention to your shoes: Shoes can make or break an outfit, so ensure you wear the right ones. Avoid sneakers, sandals, and any open-toed shoes. Stick to closed-toe, polished shoes.
6. Not paying attention to details: Pay attention to the details of your clothing, such as matching your belt to your shoes and making sure your socks are the right length. It will help you to look polished and professional.
7. Not wearing the right colours: Stick to neutral colours such as navy, grey, black, and white. Bright colours or patterns may be distracting and unprofessional.
8. Not accessorizing: Be bold and accessorize your business formal attire. A statement necklace, scarf, or pocket square can add personality to your outfit.
9. Not being confident: Above all, remember to have confidence. Stand up straight and make sure you have a positive attitude. It will help you to exude professionalism.
10. Not following the dress code: Make sure you are aware of the dress code for the workplace and stick to it. Don't try to push the boundaries – you don't want to be the one standing out for the wrong reasons.
Benefits of Dressing Business Formal
1. Professionalism: Dressing business formally helps to convey a sense of professionalism and respect. Wearing proper attire can make you look professional and confident, which can help you make an excellent first impression with potential employers or clients. It can also give the impression that you are serious about your job and take pride in your appearance.
2. Respect: Wearing business formally conveys respect for the people you meet and the situation. When meeting with potential employers or clients, it is essential to show them that you are taking the meeting seriously and respect what they have to say.
3. Comfort: Business formal attire is often more comfortable than casual attire. Many business standard items are made of breathable materials that keep you cool and comfortable. It can help you focus on the task and ensure you are comfortable throughout the day.
4. Versatility: Business formal clothing can be worn in various situations. You can easily transition from work to a social event by changing a few clothing items. It makes it great for those who need to dress up for the office but want to look more relaxed for after-work gatherings.
5. Boosts Confidence: When you look good, you feel good. Wearing business formal attire can boost confidence and help you feel more in control of the situation. It can help you speak more confidently and assertively regarding negotiations and other tasks.
Examples of worldwide top 10 business formal dress manufacturing companies
1. Hugo Boss – https://www.hugoboss.com
2. Ralph Lauren – https://www.ralphlauren.com
3. Armani – https://www.armani.com
4. Zegna – https://www.zegna.com
5. Versace – https://www.versace.com
6. Kenneth Cole – https://www.kennethcole.com
7. Brooks Brothers – https://www.brooksbrothers.com
8. Tommy Hilfiger – https://www.tommy.com
9. Kenneth Winston – https://www.kennethwinston.com
10. Paul Smith – https://www.paulsmith.com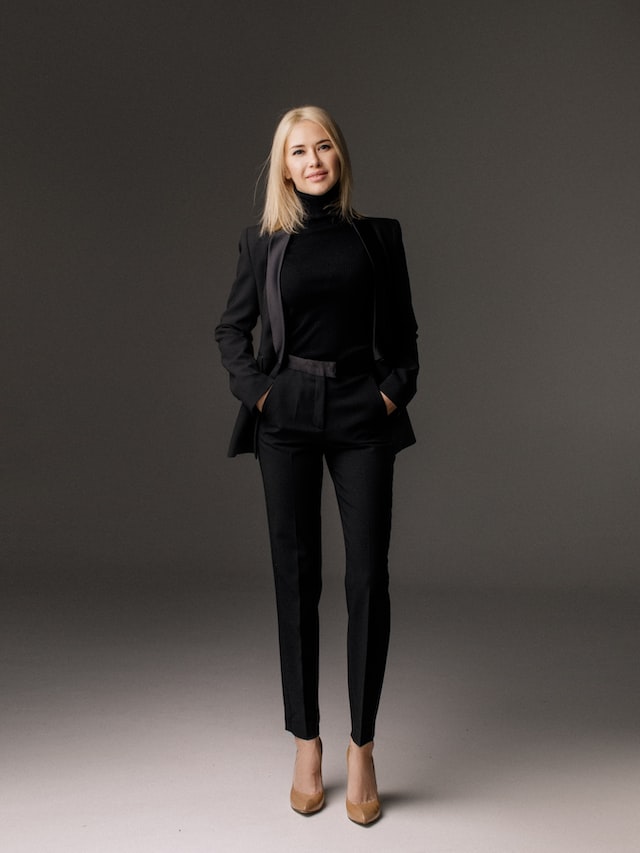 Conclusion
In conclusion, it is explicit that business formal is an essential part of any successful business. By following the guidelines of business formal, companies can ensure that they are professional and respected in the business world. By adhering to these guidelines, businesses can also ensure that their employees are confident, comfortable, and present their best selves.